Design & Decor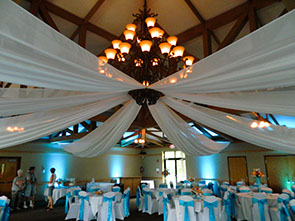 Ceiling Draping
Ceiling draping can transform an impersonal or unattractive space into an intimately elegant or festive setting suitable for a wedding reception or other celebration. Such drapes are particularly useful when the venue is a large hall that has exposed beams, duct work and other coarse elements that detract from the overall feel of the special event you are planning. Our ceiling draping will create an altogether different mood using fabric and novel lighting.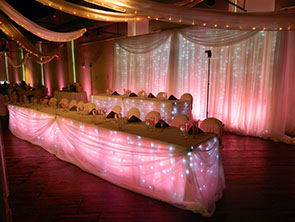 Fabric Backdrops
A fabric backdrop will add style and elegance to your head table area. Create a focal point in the room and get that WOW factor that you are looking for! A backdrop behind your head table will create a perfect background for your taking photos against, and adds to the theme of the event. We have many fabrics, colors, and accessories to customize the look of your backdrop.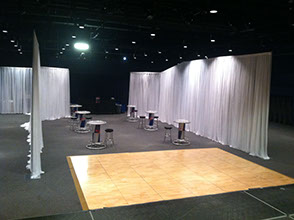 Pipe and Drape
Do you need to cover up unattractive parts of your event space? Do you want to make a barn look like a Las Vegas night club? Maybe you'd like to transform a very large venue into a smaller, more intimate space. We can use our modular pipe and drape systems to transform your vision into a reality!
Table Skirting
Your specialty tables deserve an upgrade! Give your head table, cake table, gift table, and entrance table a style boost with our fancy designer table skirting. We have several styles to to choose from. Add accessories and lighting to personalize your look.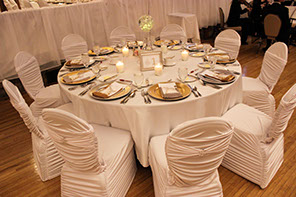 Table Design
From table linens and specialty fabrics, to charger plates and centerpieces; We have all of the table design goods you need to create a special look for your tables.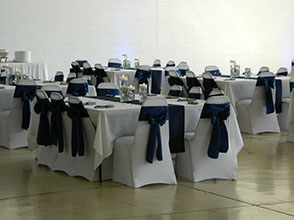 Chair Covering
Chair Covering gives a plain room character and elegance that turns an event into an everlasting and beautiful memory. We have several cover and sash styles to choose from.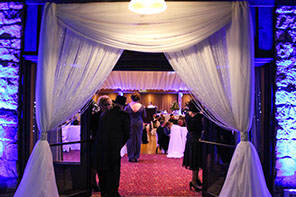 Entrance Draping
Entrance Draping adds a special touch to your event by transforming an ordinary doorway into a formal entry way. Add accessories and lighting to customize the look of your entrance design and compliment your theme.
For more info on how to prepare for a consultation, please refer to our consultation guide.
To learn more about our planning process, please refer to our policies and procedures page.